An amazing 600-km ring to be discovered slowly, amidst masterpieces of art and nature
Piedmont boasts an astonishing natural environment. A "vast park" that extends from Monviso to Adamello, with Monte Rosa and the lakes district in the center, where natural, cultural, historical and artistic elements of the UNESCO heritage outline a world to be discovered slowly, on foot and by bicycle, on dirt roads, river banks and canals. A 600-kilometer ring that touches royal palaces and the World Heritage landscapes, the Man and the Biosphere Reserves, the Creative Cities and the Geoparks.
From the Savoy Royal Residences to the Vineyard Landscapes of Langhe, Roero and Monferrato; from the Sacri Monti (Sacred Mounts) to the Creative Cities of Turin, Alba and Biella, the Pile-dwelling sites of Viverone and Azeglio, the Ivrea Industrial City of the Twentieth Century, the MAB Ticino Val Grande Verbano, Monviso and Colline Po Reserves and Sesia Val Grande GeoPark: a heritage where nature, history and architecture blend in harmony, composing a landscape of extraordinary variety, beauty and value.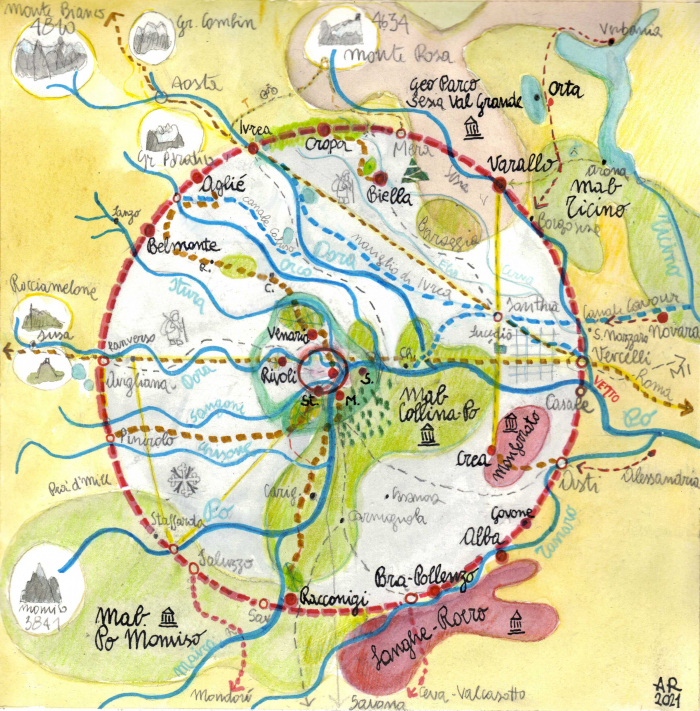 ​​
The UNESCO sites of Piedmont can be discovered starting from Turin - or reaching the route by train from the railway stations of Ivrea, Biella, Santhià, Vercelli, Casale Monferrato, Asti, Alba, Bra, Racconigi, Savigliano and Avigliana. Paths cross cities, villages and places of historical and artistic value. You can discover the Via Francigena historical path, protected areas such as the Zegna Oasis, the Baragge Nature Reserve, the Lame del Sesia Park, the Po Park; the abbeys of San Nazzaro Sesia, of Staffarda and that of Lucedio with the Bosco della Partecipanza di Trino, the lands of the Mauritian Order, the Canale di Caluso and the Ven-To itinerary, the FAI heritage sites of the Masino Castle and Manta di Saluzzo, literary landscapes, traces of industrial archeology, local museums of contemporary art.
The "UNESCO Grand Cycling Tour of Piedmont" is a territorial enhancement project by VisitPiemonte - Regional Marketing and Promotion, commissioned by the Piedmont Region and Unioncamere Piemonte, created and developed by Andrea Rolando - E-Scapes Observatory, Milan Polytechnic.