A summer filled with nature, outdoor, and flavour
Summer has arrived with its colours and its long days to be experienced slowly. The mountain valleys and villages, the hills, the lakes, and the art cities are waiting for you. Whether you love walks, total relaxation, or adrenalin-filled bike rides, whether your passions are nature, culture, or traditions, in Piedmont you can find your dimension, an excellent welcome, and inimitable wine and food journeys.
Parks: total immersion in nature
An inexhaustible reservoir of experiences in the open air for a summer rich in emotions. With views that range from the wildest summits to the wet areas of lakes and rivers, to the hills rich in fossils from ancient epochs, Piedmont's parks and protected areas are habitats of perfect biodiversity, where you can fill up on nature and glimpse the traces of wildlife, admire rare flowers, and follow paths to observe the surrounding world without hurry. But they are also places where you can discover guided excursions and musical, literary, and local cultural events. 2 National parks: Gran Paradiso and Val Grande; 77 regional parks and natural reserves; 7 special reserves protecting the Sacri Monti of Piedmont; 4 UNESCO MAB (Man and the Biosphere) reserves; special conservation areas; sites of EU significance; WWF oases; and natural areas to protect.
Outdoor: trekking, cycling, and more
In Piedmont, the network of trails, cart tracks, and mule tracks is very extensive and unwinds around plateaus, mountain pastures and valleys, in landscapes of wild and fresh beauty. From the Cuneo Valleys to the Susa Valley and Lanzo Valleys, from the Valsesia to the Ossola Valleys, there are countless excursions to undertake on foot, by bike or horse, to truly experience the typical local traditions and flavours. The Grande Traversata delle Alpi is a genuinely exceptional experience along more than 1,000 km of the Piedmont alpine arc with 120 stopping points, from the Tanaro Valley to Lake Maggiore, passing through Oropa and Valsesia. The most sustainable idea? Exploring the mountainous side of Lake Maggiore along 6 routes from Domodossola and the surrounding valleys to Switzerland without a car, taking the boat, bus, or historic Centovalli-Vigezzina railway line instead. But the cross-border belt between Piedmont and France is also rich in options that combine sport with all-round experiences. On Piemontescape, the reference portal for enthusiasts of outdoor activities in Piedmont, you can consult all the main outdoor offerings.
Beach season in Piedmont? Yes, at the lakes!
Set in the landscape like precious cameos, the Piedmont lakes are peaceful corners immersed in nature, where you can enjoy special micro-climates, entertainment, and sport. It's no surprise, then, that even a region without a coastline has a regular beach season, which goes from 15 May to 30 September, with 95% of the beaches in compliance with European regulations. All in all, there are 89 beaches where you can swim on the banks of Lakes Maggiore, Orta, Mergozzo, Viverone, Candia, Sirio, and Avigliana. Water sports are centre stage with sailing and canoeing, water skiing and diving, windsurfing and kite surfing, and flyboarding, which lets you walk and spin on the water, but also golf and horse riding, photography, and birdwatching.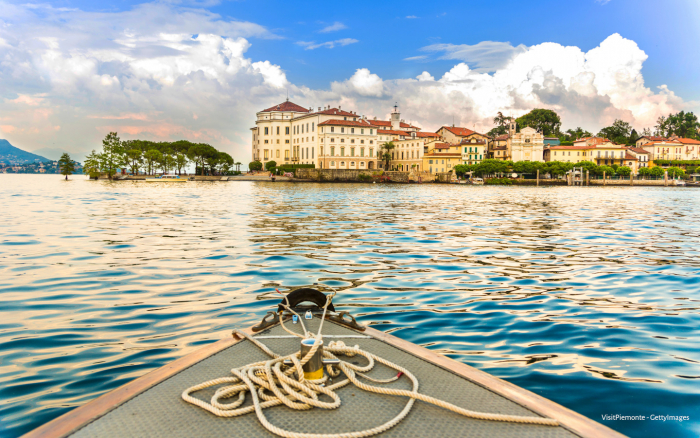 Villages: authenticity and so many stories to tell
In summer too, the villages fully convey the harmony and evocative nature of the ancient walls immersed in the countryside among the hills, as far as you can see, of the wine-growing landscapes of Langhe-Roero and Monferrato, or in the mountain valleys. They are rich in a unique identity, of history and traditions, local products, and typical cooking. There are 17 small Piedmont towns included among the Borghi più Belli d'Italia ["Italy's Most Beautiful Villages"]: a world of widespread beauty, stories to tell, scents and flavours to experience.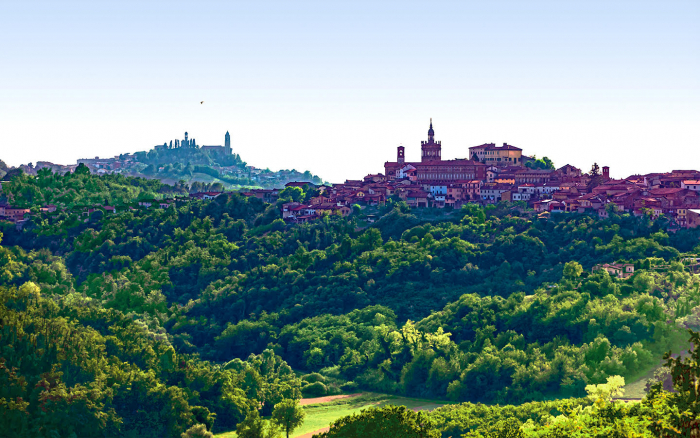 Art cities and architectural masterpieces to explore
From Turin to the other provincial capitals, to the smaller towns, every centre in Piedmont has its own story and special features to be discovered on a walk, a museum visit, or by simply admiring the skyline at sunset. Monuments and architecture, cultural, musical, and sports events, open-air markets and shopping will fill your day, together with tastes of the most tantalising offerings to take home. And don't forget a visit to the triumphal Residences of the Royal House of Savoy (a UNESCO world heritage site), the noble villas and castles, and the thousand-year old forts that whisper echoes of glorious memories and invite you to travel through time.
In Piedmont, there's always a party at the table!
In Piedmont, our cuisine is all-year round, thanks to the versatility of the regional tradition and the imagination of chefs in approaching our excellent products. In summer, among other dishes, the cold antipasti triumph in restaurants and trattorias: preserved meats and vegetables, vitello tonnato, pickled vegetables, anchovies with green or red sauce, tonno di coniglio (preserved rabbit), beef tartare, and amazing deserts like bunét (chocolate custard) with amaretti, pastries, and artisanal ice cream. And if you go into the mountains, you should know that in many refuges, in addition to the usual polenta dishes, today you can try true gourmet menus tested by the most popular review sites, with much focus on local seasonal and quality products, including the best of Piedmont's artisanal beers.