News
Body
ROAD TO 2025: the logo of the 2025 World University Games of Torino and Piedmont presented at Expo Dubai
Turin, Piedmont and the 2025 World University Games went on the international stage of Expo Dubai, on Thursday 27 January, to tell the world about an event that will embrace the Piedmontese mountains with top-level competitions for 10 days, from 13 to 23 January 2025. The delegation of Torino 2025 was represented by Fabrizio Ricca, Councillor for Sport of the Piedmont Region and Honorary President of WUG Torino 2025; Alessandro Ciro Sciretti, President of the Organising Committee of WUG Torino 2025 and President of EDISU Piemonte, and Riccardo D'Elicio, Deputy Vice President of WUG Torino 2025 and President of CUS Torino, and was welcomed by the Commissioner General of the Italian Pavilion, Paolo Glisenti. The highlight of the Dubai event was the presentation of the logo: the Mole Antonelliana stylised with the colours of the FISU, skis and the blue symbol of winter sports to form a large U completed by the wording Torino 2025. The graphics were created by Matteo Belletti, a 24-year-old student from Turin enrolled in the Faculty of Communication, ICT and Media at the University of Turin. "With this logo, which represents all the beauty of Turin and Piedmont, we are pressing the start button for this highly important adventure," commented Regional Councillor Fabrizio Ricca.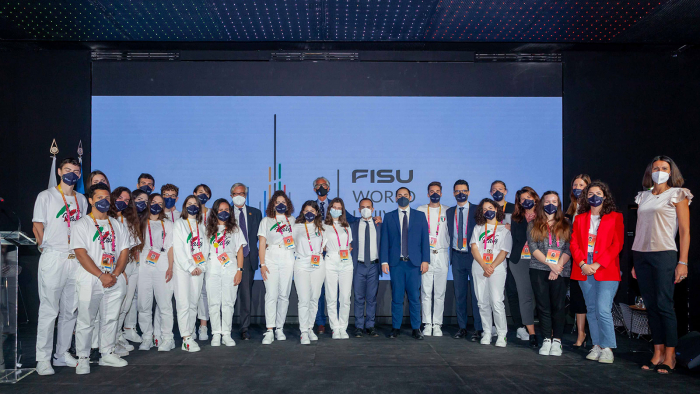 Created in 1959 by Primo Nebiolo under the name Universiade, the FISU World University Games are held every two years in a different city, representing a celebration of international university sport and culture, bringing together several thousands of students-athletes in one of the largest and most prestigious multi-sport events in the world. The organisation of the XXXII edition of the 2025 Games has been assigned to the CUSI (Italian University Sports Centre), and together with Torino it will also involve Bardonecchia, Pragelato, Torre Pellice and Pinerolo, in an environmentally and economically sustainable manner.
The ROAD TO 2025 will include "Just the woman I am" on Sunday 6 March, which is another major event organised by CUS Torino in cooperation with the University of Torino and the Polytechnic to support university-based cancer research. From 20 to 23 July, the Royal Park I Roveri will host the World University Golf Championship, another global showcase for Turin.                                                                                                                                                          
www.fisu.net