News
Body
Sergio and Simone Vineis, father and son, are the ambassadors of haute cuisine in the Biella area with 18 years of Michelin stars at their restaurant Il Patio, and thanks to their passion and creativity.
We are in Pollone, a small village in the Elvo Valley, at the border between the Canavese and Biellese areas, not far from the Bessa and Burcina Park special nature reserves. An area of woods and pastures, then hills as far as the moraine ridge of the Serra, which slopes down to Lake Viverone. Thanks to the breeding of the prized Pezzata Rossa di Oropa cattle breed, this area can boast a solid dairy tradition: Toma, Maccagno, Tomini della Serra, Mascarpa ricotta, Beddu made with skimmed milk and eaten fresh or aged on straw, and fresh cheeses such as Sordevolo. There is also a large production of cured meats: pork salam 'd l'ula preserved in fat, as well as beef, donkey and goat products and the shoulder ham Paletta di Coggiola. Rice here is special: it is the first and only rice in Italy to boast a PDO denomination for the Baraggia variety, grown in 28 municipalities in the provinces of Biella and Vercelli. Among the traditional dishes, a special mention goes to corn pulenta cunscia, a polenta seasoned with plenty of cheese and farmhouse butter, and soups. Canestrelli di Biella are just heavenly: thin, crumbly wafers with a chocolate filling.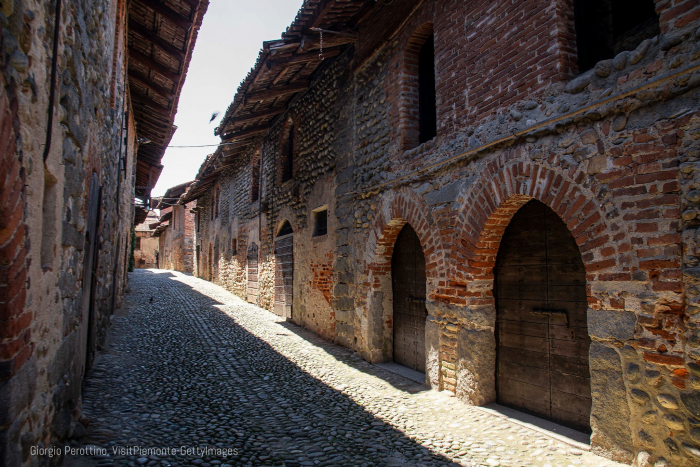 As for wines, the province of Biella has one DOCG, Erbaluce di Caluso, and 4 DOCs: Bramaterra and Lessona, Canavese and Coste del Sesia.
"Mine is a daily quest, and I mean daily. Every day I study to come up with some new invention.
Curiosity is what drives me," explains chef Sergio Vineis. He drew on and reinvented the elements and scents of the Biella land for the "Eccellenze del Piemonte in vetrina" project, combining them with ingredients from the wider Piedmont region and looking for original ideas, both for the dinner at his restaurant and for the event at Roddi Castle. His menu starts with poached egg, cardoons from Nizza Monferrato, parmesan, anchovies and white truffle from Alba – the leitmotiv of the "Eccellenze" dinners – followed by marinated rabbit fillet, horseradish, celery and chamomile yoghurt. The pasta courses include cappellacci with a rooster alla cacciatora filling and mushroom extract, or bottoni with a cauliflower from Moncalieri filling, anchovies, raspberry, and white truffle from Alba. The main courses play with meat and fish: in Roddi, he presented sanato (the softest calf meat) sirloin with butter, liquorice and baby chard. In Pollone, he served salt cod, radicchio and red wine sauce. A "sorbet" of extra-virgin olive oil bread, almond milk and green tea and mint sherbet precedes the desserts: apples, in an unusual reinterpretation, or chestnut cream with malt crumbles, miacce and ratafià sauce. The latter dessert is a tribute to the typical thin, crispy cornmeal rectangles cooked on hot plates, typical of the Biellese and Valsesia areas (miacce), and the cherry liqueur by Andorno Micca (ratafià).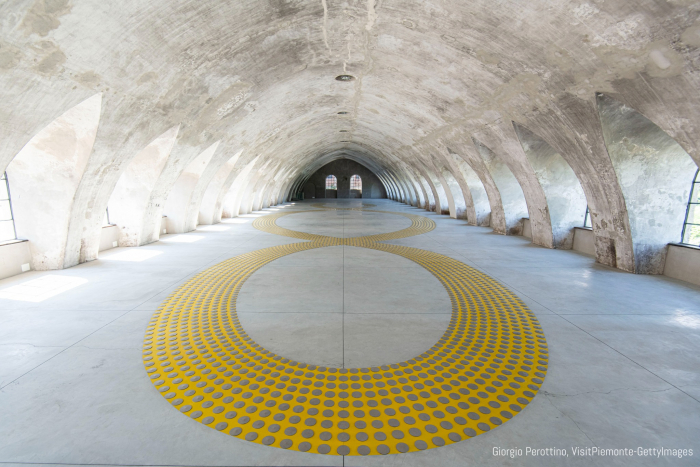 "Eccellenze del Piemonte in vetrina" is a project supported by Regione Piemonte and included in the programme of the 91st edition of Alba's International White Truffle Fair. It is organized by VisitPiemonte - Regional Marketing and Promotion, Alba's International White Truffle Fair Organization, Local Tourist Agencies in Piedmont and the Regional Enoteche (Wine Centres).